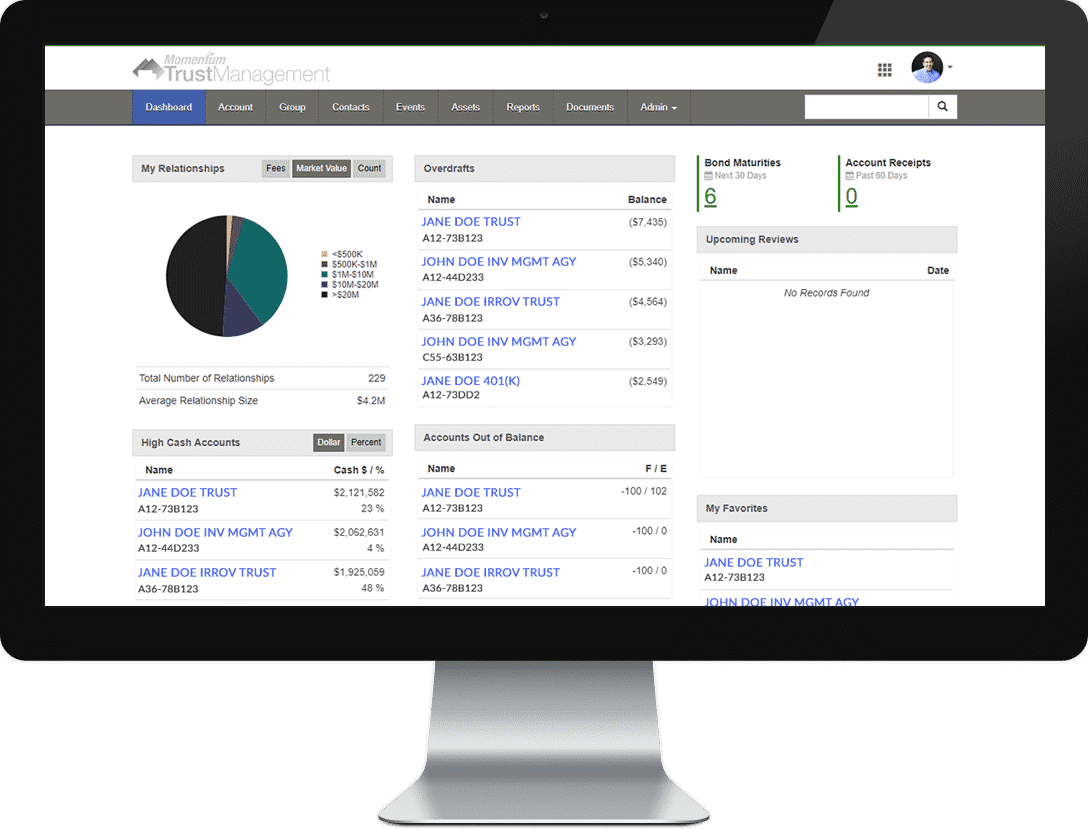 It all starts with the Dashboard
The fastest way to get your day going and stay on track.
When you log into MomentumTRUST you are presented with a dashboard displaying real-time portfolio snapshots of key account factors. The dashboard is designed to help you strategically plan your day.
Integrated with trading software, the dashboard pulls transactions and pricing to provide users with real-time valuations of all customer accounts. The social network style lets users leave notes on almost any entity and track those over time.
Dashboard Highlights
Alert system to notify users of important events
Useful information at a glance including: High Cash Accounts, Overdrafts, Accounts Out of Balance, Upcoming Reviews and Favorite Accounts
Endless scrolling data to increase performance and usability
Interactive charts
Universal search available anywhere in the application
CRM+ Event Manager
Built-in Contact and Marketing/Event Module
MomentumTRUST's built-in CRM+ Event Manager allows you to connect with clients, contingents, beneficiaries and prospects as well as track, plan and promote events, seminars, parties and marketing campaigns.
Contact Management
MomentumTRUST's built-In CRM+ allows you to efficiently track and connect prospects, accounts, households, beneficiaries, grantors and third-party relationships related to trust management.
Marketing Campaigns
MomentumTRUST's robust CRM+ Event Manager allows your marketing team to easily create marketing campaign databases. Campaigns are easily assigned to contacts through the CRM+.
Marketing Events
MomentumTRUST's robust CRM+ Event Manager allows your marketing team to easily create events, assign quantities to relationship managers, assemble invitation lists, collect rsvps, create name tags, labels and track event results.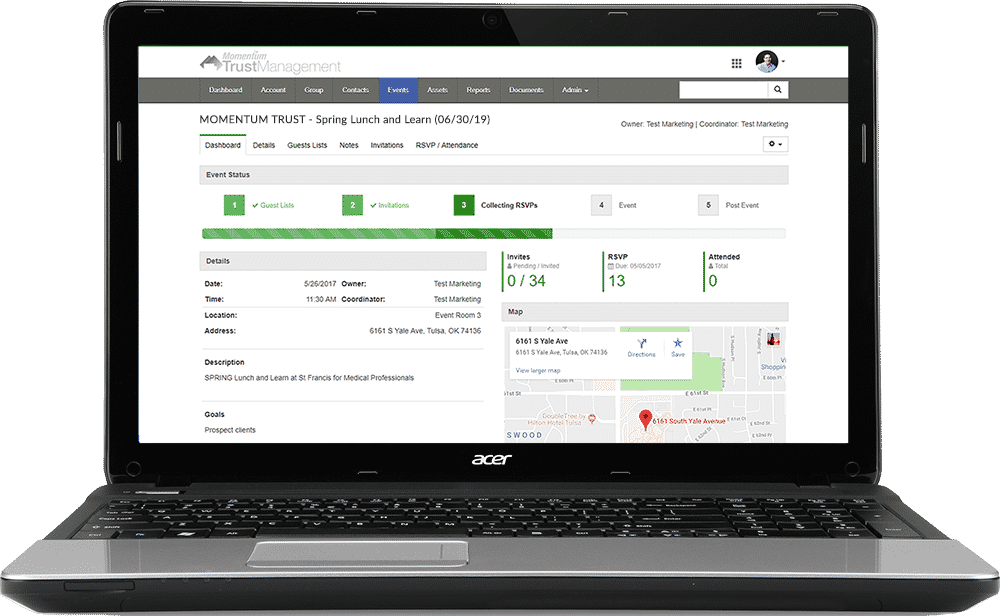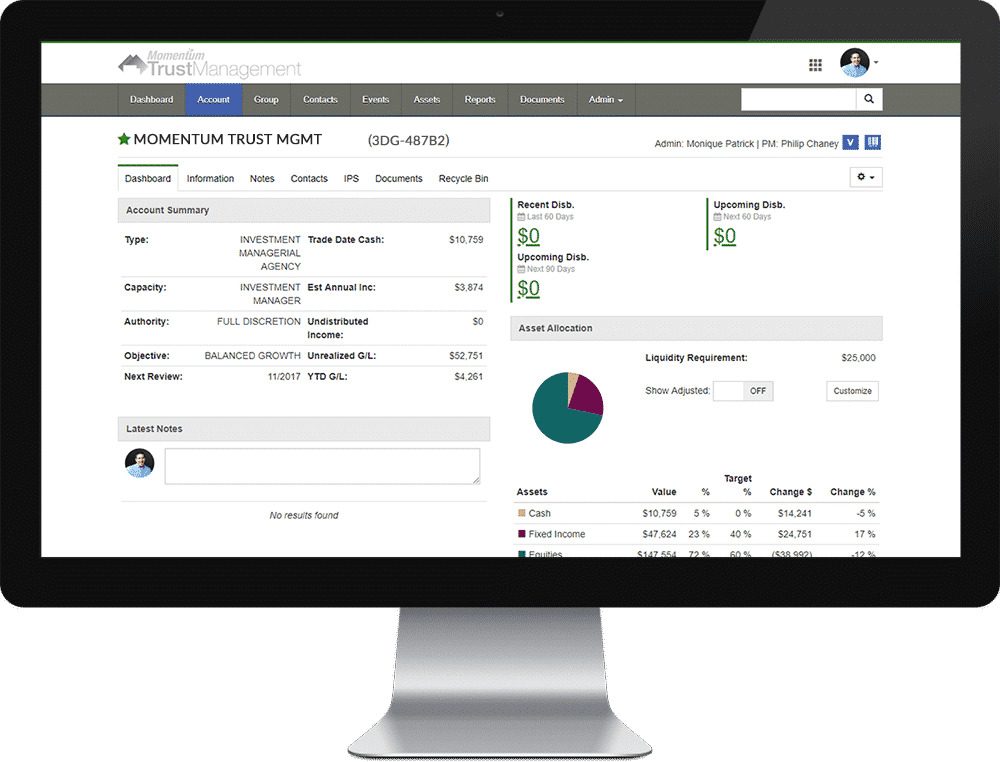 Portfolio Review & Analytics
Quickly review client accounts at a glance.
Whether you are in the office or on-the-go, easily review and respond to client requests with MomentumTRUST's portfolio analytics tools.
The client and group level dashboards present an at-a-glance overview of an account's investment objectives, asset allocations, recent distributions, upcoming distributions, review due date, account recent account notes, account alerts and links to associated groups.
From the account or group dashboard easily transition between information, notes, contacts, IPS and document tabs.
Document Management
Track, manage and store documents.
MomentumTRUST's secure, in-system scanning and storage allows your business to easily organize, file and retrieve documents in a cloud-based environment.
User-friendly functionality includes drag-and-drop, direct-to-file scanning and cloud-based storage which allows your business to easily organize, file and retrieve documents. Scanning multiple unrelated documents into a per-determined file structure allows your team to retrieve files easily and respond to customer and compliance requests quickly.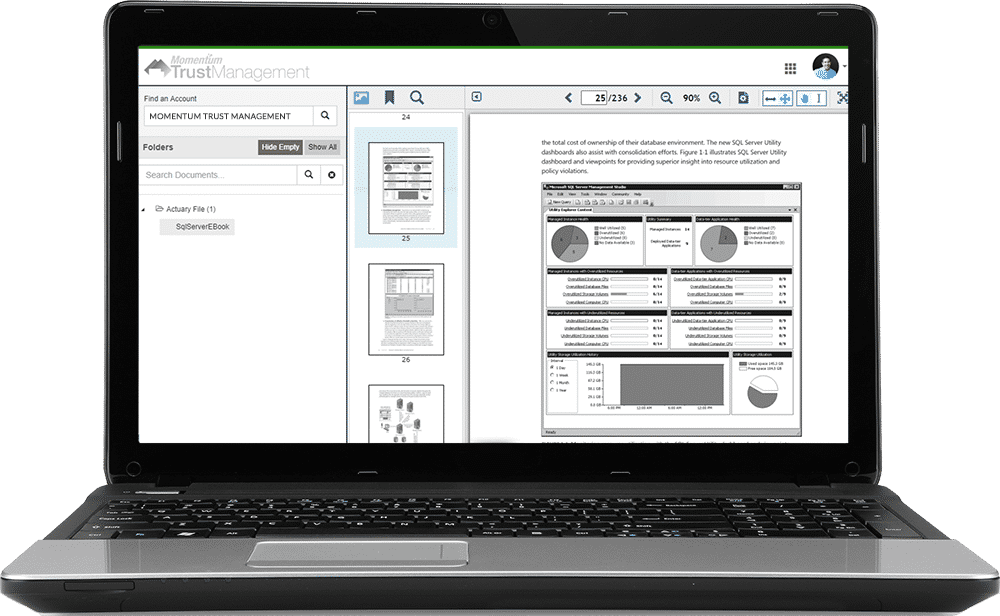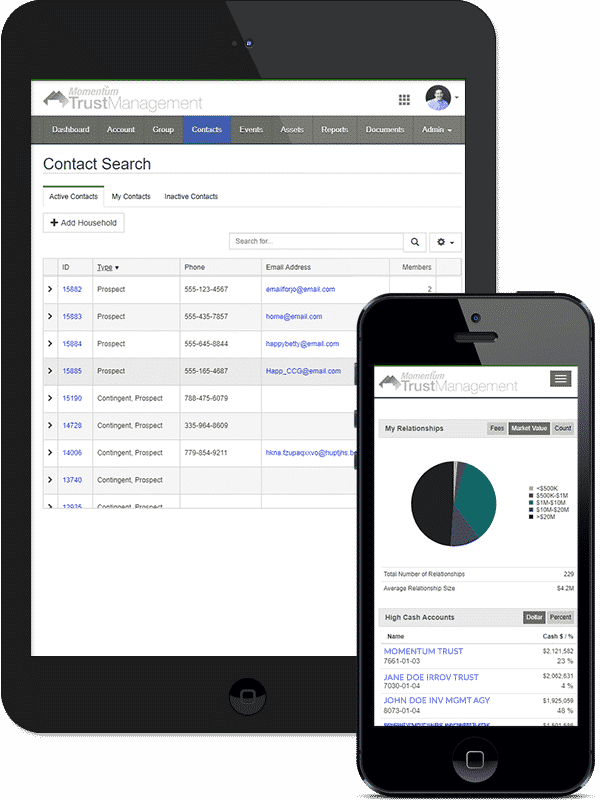 Additional Features
Enhance your customer service and gain efficiency.
MomentumTRUST's robust platform provides valuable tools to increase efficiency, improve customer relations and gain valuable time back to build your business.
Account Grouping
IPS Generator & Manager
Universal Search
Enhanced Notes